Travels abound for Sam and Amar. This time it's a road trip to the beautiful Northwest. Our first stop is Boi … wait, not so fast … This Weekend is the Non Stop Bhangra Global Massive with Surya Dub taking over the loft for a Tropical Bass spectacular. Nearing the end of the month, we head to Boise for our favorite festival in the world, Fusion Fest. Sam will be teaching and performing, and i'll be DJing the AfterParty. After Fusion Fest, we head west for some time off in Portland and Bellingham before we hit Tacoma on the 4th for Cirque De Bijoux and Seattle on the 5th for Djinn & Tonic with Kristine Adams. This will be our first time performing in Seattle. We will be back there for Cues & Tattoos in the springtime too.
Below are details for the upcoming goodies.
Saturday July 14 (SF): NON STOP BHANGRA – Global Massive Month – SURYA DUB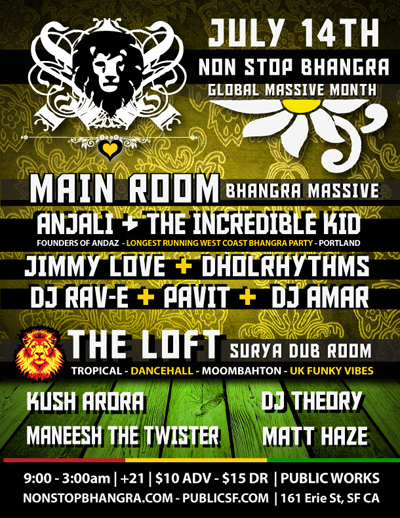 ---
July 27-29 (BOISE, ID): FUSION FEST – Boise's Premier Fusion Belly Dance Festival Featuring Workshops by SOOZ, KAROLINA LUX, CALAMITY SAM & more. AfterParty Friday Night with DJ AMAR & Special Guest Dancers Presented by Cairo Fusion Dance.

---
Saturday August 4 (Tacoma, WA): Cirque De Bijoux at The Dalton Club, 733 Commerce St. in Tacoma. Calamity Sam will be performing, Amar will be DJing after the performances. Details will be posted on Amar's Facebook Page in a few days.

---
Sunday August 5 (Seattle, WA): DJINN & TONIC – Gypsy Dance Party featuring Kristine Adams (FCBD), Belly Belly Hip, Calamity Sam (CA), DJ Amar (CA), Skin Deep & more @ The Can Can (Pike Place). Kristine will be teaching in Seattle all weekend, hosted by Skin Deep Dance.